Branded PopSockets and personal designs
PopSocket Grips can be printed individually. That makes the trendy lifestyle-product a perfect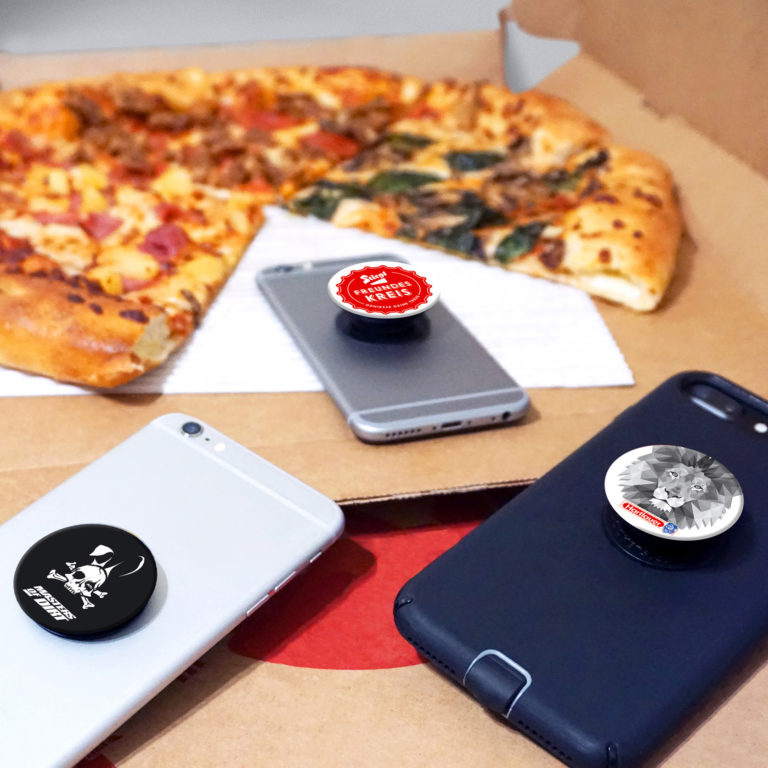 company-gift and advertisement medium for everyone who wants to stand out from the masses.
Branded PopSockets are a popular way to express appreciation towards employees, customers or business partners while also providing a significant marketing and recognition value.
Executive Gift with maximum promotional impact
Design your very own advertisement medium and forget lighters, pens and other junk that will only get lost in a dark bag anyway. The back of a mobile device (smartphone, tablet, e-book-reader, etc.) is one of the best ad-spaces around. In meetings, at events or with friends – with your logo on a PopSocket, all eyes are on you.
Mobile phone, cell phone, tablet a multifunctional promotional product
Promotional PopSockets are available starting at 2,75 Euros (depending on order size), the minimum order size being 120 units. Your design is printed on the entire surface (4c) of the white button using a high quality UV printing process. For all orders, the placcordion is available in black or white – for orders of 10.000 units and more, a wide variety of colours is available.
If you have any questions, we are always happy to assist you in person or by providing a non-binding individual offer. Please complete the form below to help us answer your questions and accommodate your requests swiftly. We will get back to you personally as soon as possible with an offer and all other information that you may need.